Conference Registration
For the duration of the conference, registration will be held in The Printworks building (also known as the Stamping building) which is immediately outside Dublin Castle. Follow the link below for the precise location: https://w3w.co/transit.scarf.drift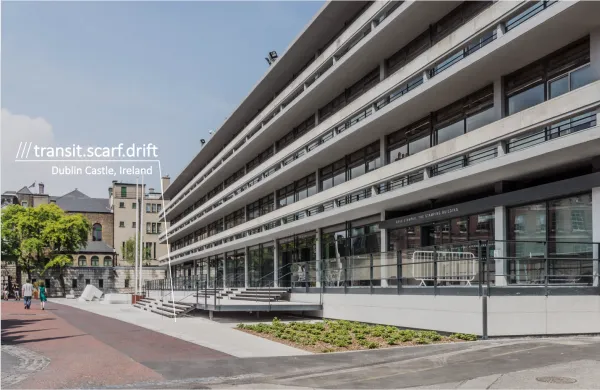 Photograph by William Murphy (Infomatique)
How to get there:
For directions straight to the registration area, the what3words app can be downloaded for free.
Arriving by Public Transport
For the best up-to-date journey planner, please use: https://journeyplanner.transportforireland.ie/
Please see below section on Travel Cards
From the airport
Bus: Take the 747 bus from outside of the airport terminal to the Carnegie Centre stop in Lord Edward Street, Dublin City South. The venue is a four minute walk away. Journey approximately 44 minutes.
Tickets:
A cab from Dublin Airport to Dublin Castle will cost approximately €26.50. Cabs are metered so the price will be dependent on traffic.
Venue Co-ordinates for GPS:
Latitude: 53.342686 (53°20' 33.6696'' N)
Longitude: -6.267118 (6° 16' 1.6248'' W
Travel Cards for ETC 2018
This year delegates will receive a LEAP Card when the collect their badge and registration documents. This has been kindly sponsored by the National Transport Authority Ireland NTA and Transport for Ireland.
These special three day visitor cards will allow unlimited travel on Dublin Bus, Luas and DART and Commuter Rail in the Short Hop Zone (basically around Dublin City and suburbs) for 72 hours from first use. Please note if delegates wish to travel further outside the city or on other services, separate tickets will be required.
Short Hop Zone Map: https://about.leapcard.ie/dart
https://www.transportforireland.ie/

Journey Planner App for Android and iPhone
As well as Public Transport, it also has an excellent cycling and walking facility, please use the link below to download this invaluable app.
https://www.transportforireland.ie/smartphone-apps-for-android-and-iphone-available-now/