Dublin allows the opportunity for a number of exciting technical visits and active tours. As ever these are on a first come first served basis, with priority being given to AET members. To register your interest, please do so via the booking form or email sabrina.winter@aetransport.org
Running Tours
Start your day with a clear mind, #ETCercise lead by Oliver Charlesworth ocharlesworth@citilabs.com and Gavin Jackman gavin.jackman@aimsun.com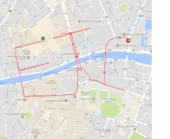 Put the sport in Transport
2017 saw the first ETC running tour in Barcelona and word spread in 2018 to get a great turn out in Dublin. In 2019 you can expect to run past some of Dublin's most popular sites such as: Trinity College, Dublin Castle, St. Patricks Cathedral, GPO building, Guinness Storehouse (on the slightly longer run) and numerous city parks and bridges over the River Liffey. We start a little early to make sure there's plenty of time for showers before the conference begins at 9am.
Depending on demand we will cater for different paces and distances:
Routes are indicative and subject to change.
Bicycle Tours
Facilitated by Dublin City Council and the Lazy Bike Company
Places strictly limited to 25 places per session
Wednesday 9th October 1800 – 1900
Thursday 10th October 1800 – 1900
Luas Red Cow Depot
Transport Infrastructure Ireland and Transdev Ireland, the operator of the Luas, Dublin's Light Rail system are delighted to be hosting a visit to their Red Cow Depot facility. The visit will include short tours of the Central Control Room and the working Depot floor.
2 x groups of 15
Thursday 10th October 0915
0825 at the latest all delegates to board tram from Luas stop Red Line Outbound to the Red Cow Depot facility to meet group leader Michelle Price.

You will need to make your own way to the Red Cow Depot for 9.10am sharp to meet Michelle Price (Transport Infrastructure Ireland) who will lead the tour.

The nearest Luas stop to Dublin Castle is Four Points (see map below). The journey will take at least 30 minutes so please ensure you are on the Luas by 8.25am at the latest to ensure you are ready for the start of the tour.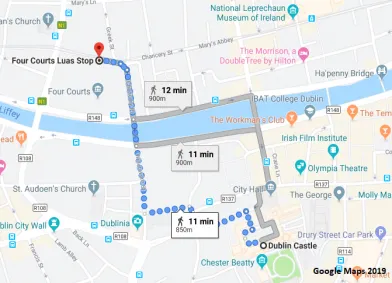 Irish Rail (CTC)
This technical visit is presented by Irish Rail, at Connolly Station.
2 x groups of 15
Thursday 10th October 1600
Leaving the Printworks at 1500, coach travel will be arranged.
Go-Ahead Ireland New Depot Tour
For session 10 on Friday afternoon, the Local Public Transport stream features a visit to the depot of Go-Ahead Ireland, a newly-established bus operator in Dublin. Go-Ahead Ireland was established in response to the contracting-out of bus services in Dublin, and is a fascinating example of an operator being set up from cold. The company is a subsidiary of the British Go-Ahead Group. The visit will include a presentation from Ed Wills, the Managing Director, and a tour of the newly-established depot, a conversion of an existing building.
The tour will depart from Dublin Castle (Printworks Registration desk) at 13:15, with participants taking a packed lunch (not because it's a long way but because we're quite tight for time). Numbers are limited to 24.
Special Pre-Conference Visit 8th October, Belfast Glider
Belfast Glider is a high-quality bus rapid transit system using 18m articulated vehicles on a mixture of dedicated bus lanes and ordinary roads. There's a good description of the scheme here:
https://www.infrastructure-ni.gov.uk/articles/belfast-rapid-transit-glider-introduction
The cost is £35+VAT to include a light lunch and coach travel. Please email Sabrina.Winter@aetransport.org
All delegates must be pre-registered by Sunday 5th October.
0845

Assemble at Ship Street entrance of Dublin Castle

0900

Coach departs for Belfast

1130 – 1200

Coach arrives Donegall Square West (west side of City Hall)

1200 – 1215

Meet Prof. Austin Smyth outside Visit Belfast (Danske Bank building)

9 Donegall Square N, Belfast BT1 5GB

There is a good supply of tourist information within

Walk to Department for Infrastructure Northern Ireland, Clarence Court, Adelaide Street, Belfast BT2 8GE

1230

Briefing by Robin Totten, BRT Senior Programme Manager

Light lunch

1330 - 1500

Tour to eastern end of the Glider service

1500 - 1600

At leisure to travel on other Glider routes

1600

Coach departs for Dublin

If you wish to stay longer in Belfast, there are trains to Dublin until 1945 hours