Council
The Council consists of a maximum of 24 Members of the Association for European Transport represent the AET members and help with the direction of the association. One third of the Council seats are elected each year at the Annual General Meeting, held at the European Transport Conference.
Council Members are normally elected for three years, with one-third of the Council standing down for re-election each year. If you are an AET member and would like to be considered for the next election please let us know by using the contact us form.
Members elected until October 2018:
Oliver Charlesworth (UK)
Colin Chick (UK)
Peter Davidson (UK)
Conall MacAongusa (IE)
Csaba Orosz (HU)
Gisela Graefin von Schlieffen (DE)
Members elected until October 2019:
Francis Cirianni (IT)
Domokos Esztergar-Kiss (HU)
Olga Feldman (NL)
Wim Korver (NL)
Stephen Luke (UK)
John McCarthy (IE)
Johnny Ojeil (UK)
Christian Winkler (DE)
Members elected until October 2020:
Michael Bach (UK)
Angela di Febbraro (IT)
Graham Ellis (UK)
Jan Francke (NL)
James Odeck (NO)
Luigi dell'Olio (IT)
Peter Snelson (UK)
Board
The Association for European Transport's Board is appointed by the AET Council. It is accountable to AET members via the representation of the Council for developing the Association and the European Transport Conference.
The AET Board consists of up to seven members appointed by the Council. The Board is responsible for agreeing its own roles and responsibilities amongst its members, however, it must have a Chairman, Secretary and Treasurer.
The current Association Board consists of:
Chair: Pierluigi Coppola (IT)
Secretary: Hermann Maier (UK)
Treasurer: Barry Zondag (NL)
Directors: Elaine Seagriff (UK), Remko Smit (NL), Angel Apariocio (ES), Enrica Papa (IT)
Other roles of the board members are:
Marketing and Newsletter: Peirluigi Coppola and Enrica Papa
Links with International Organisations and Associations: Angel Aparicio
Website: Remko Smit
Conference management team: Hermann Maier and Pierluigi Coppola
AET vision: Elaine Seagriff
Peer review of ETC papers and publications: Pierluigi Coppola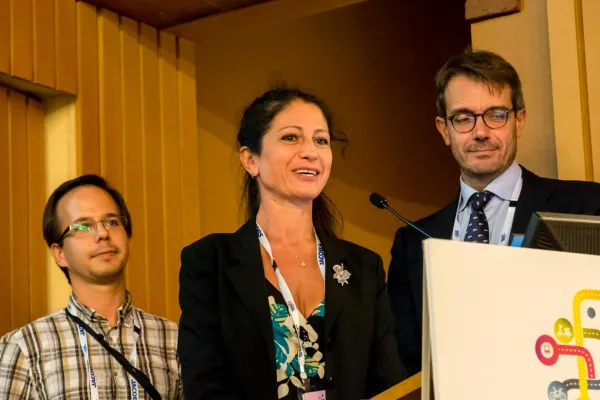 Ambassadors
The Association for European Transport has a number of Ambassadors who volunteer to help the AET Board in marketing the European Transport conference and AET Membership in their countries.
The AET is currently working with the ambassadors to improve this network. More information about the ambassadors will be published in due course.