The move to Dublin this year allows the opportunity for a number of exciting technical visits. As ever these are on a first come first served basis, with priority being given to AET members. To register your interest, please do so via the booking form or email sabrina.winter@aetransport.org
Running Tour
Start your day with a clear mind, #ETCercise lead by Oliver Charlesworth ocharlesworth@citilabs.com and Gavin Jackman gavin.jackman@aimsun.com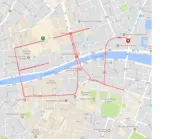 Put the sport in Transport
2017 saw the first ETC running tour and we're back for ETC 2018 in Dublin. In 2017 a modest-sized group of mixed ability joggers and runners met early for a casual run to see some of Barcelona's main attractions - all before the day had properly started. Whilst you can't expect a Mediterranean climate in 2018, you can expect to run past some of Dublin's most popular sites such as: Trinity College, Dublin Castle, St. Patricks Cathedral, GPO building, Guinness Storehouse and numerous city parks and bridges over the River Liffey.
Depending on demand we will cater for different paces and distances:
Thursday 11th October: There are two route options; plod round a city-center

6 km route

whilst casually chatting with ETC colleagues (~45 mins) or go a bit further on the 11 km route and run past the Guinness Storehouse (~1h 15mins). Meet at the Castle @ 7am.

Friday 12th October

: a run of around 10-14 km up to and around Phoenix Park where we are likely to see deer and hear the dawn chorus of Dublin Zoo (~1h15 - 1h45). Meet at the Castle @ 6:30am.
Routes are indicative and subject to change.
Bike Tours
Facilitated by Dublin City Council, Dublin Bikes. The bikes will be sponsored and supplied by JC Decaux
Places strictly limited to 25 places per session
Wednesday 10th October 1800 – 1900
Thursday 11th October 1800 – 1900
Dublin Tunnels
Presented by Transport Infrastructure Ireland.
2 x Groups of 15
Thursday 11th October 1115 arranged transport will leave for the tour, returning to Dublin Castle during lunchtime
Packed lunch will be provided
LUAS Redcow Depot
Transport Infrastructure Ireland and Transdev Ireland (the operator of the Luas, Dublin's Light Rail system), are delighted to host a visit to their Red Cow Depot facility. The visit will include short tours of both the Central Control Room and the working Depot floor.
2 x Groups of 15
Thursday 11th October
0825 all delegates to board tram from LUAS Stop to the Red Cow Depot facility
Centralised Traffic Control (CTC)
This technical visit is presented by Irish Rail and will take place at Connolly Station.
Provisional times are:
Friday 12th October 0900 – 1030
Friday 12th October 1400 – 1530
2 x Groups of 15
Special Day Trip - Saturday 13th October
Visits of technical and social interest.
The organisers of ETC would like to gauge interest in two potential visits to be organised on the day after ETC. These would be all-day visits, therefore difficult to fit into the three-day conference timetable.
The two proposals (and we might run both) are:
1) A visit to the newly-open Bus Rapid Transit scheme in Belfast. This would involve travelling on the train from Dublin to Belfast both ways. There would be a visit to the BRT scheme itself and also an opportunity to see something of the tourist sights of Belfast (especially the Titanic exhibition).
2) A visit to the border area between the Irish Republic and Northern Ireland. This border is turning out to be critical as far as Brexit is concerned - and yet is little-known outside the island of Ireland. The visit would start on the train from Dublin, travelling to Belfast or to Portadown. We'd hope to have someone from one or other of the railways to talk about the changes that have happened to the border over the last 25 years (which includes a ten-fold increase in freight). We'd then return on a coach, travelling by way of Monaghan and Cavan, using a road that crosses the border four times in 10 km. Again, we would hope to have someone local to talk about the Brexit issues.
There would have to be a charge for either of these visits.
Option (2) could well return by way of Dublin Airport for anyone who wanted to catch a flight on Saturday evening.
So, first question is to have you booked your transport arrangements to and from Dublin such that a technical visit on the Saturday would be impossible?
Second question is - would you be interested in either of these (and if so which)?
Responses to:
sabrina.winter@aetransport.org
.