Dublin allows the opportunity for a number of exciting technical visits and active tours. As ever these are on a first come first served basis, with priority being given to AET members. To register your interest, please do so via the booking form or email sabrina.winter@aetransport.org
Running Tours
Start your day with a clear mind, #ETCercise lead by Oliver Charlesworth ocharlesworth@citilabs.com and Gavin Jackman gavin.jackman@aimsun.com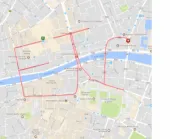 Put the sport in Transport
2017 saw the first ETC running tour in Barcelona and word spread in 2018 to get a great turn out in Dublin. In 2019 you can expect to run past some of Dublin's most popular sites such as: Trinity College, Dublin Castle, St. Patricks Cathedral, GPO building, Guinness Storehouse (on the slightly longer run) and numerous city parks and bridges over the River Liffey. We start a little early to make sure there's plenty of time for showers before the conference begins at 9am.
Depending on demand we will cater for different paces and distances:
Routes are indicative and subject to change.
Bicycle Tours
Facilitated by Dublin City Council and the Lazy Bike Company
Places strictly limited to 25 places per session
Wednesday 9th October 1800 – 1900
Thursday 10th October 1800 – 1900
Luas Red Cow Depot
Transport Infrastructure Ireland and Transdev Ireland, the operator of the Luas, Dublin's Light Rail system are delighted to be hosting a visit to their Red Cow Depot facility. The visit will include short tours of the Central Control Room and the working Depot floor.
2 x groups of 15
Thursday 10th October 0915
0825 at the latest all delegates to board tram from Luas stop Red Line Outbound to the Red Cow Depot facility to meet group leader Michelle Price.
Irish Rail (CTC)
This technical visit is presented by Irish Rail, at Connolly Station.
2 x groups of 15
Thursday 10th October 1600
Leaving the Printworks at 1500, coach travel will be arranged.
Go-Ahead Ireland New Depot Tour
This is the LPT technical visit (open to all). Depot Tour and presentation about setting up a new company by Ed Wills MD, Go Ahead Ireland.
Friday 11th October
Leaving the Printworks at 1400 after lunch meet by the registration desk.
Special Pre-Conference Visit 8th October, Belfast Glider
Belfast Glider is a high-quality bus rapid transit system using 18m articulated vehicles on a mixture of dedicated bus lanes and ordinary roads. There's a good description of the scheme here:
https://www.infrastructure-ni.gov.uk/articles/belfast-rapid-transit-glider-introduction
A coach will run from Dublin Castle Printworks at 0900 to Belfast. The visit will start at 1200 at Belfast with a talk presented by the operator, Translink, followed by a tour to look at the features of the system. The coach will return to Dublin after the visit, leaving approximately 1600.
An alternative which might appeal to some delegates is to fly into Belfast (either George Best Airport or Belfast International Airport) and join the visit there. The meeting point is the Short Strand Depot.
The cost is £35+VAT to include a light lunch and coach travel. Please email Sabrina.Winter@aetransport.org