The move to Dublin this year allows the opportunity for a number of exciting technical visits. As ever these are on a first come first served basis, with priority being given to AET members. To register your interest, please do so via the booking form or email sabrina.winter@aetransport.org
Running Tours
Start your day with a clear mind, #ETCercise lead by Oliver Charlesworth ocharlesworth@citilabs.com and Gavin Jackman gavin.jackman@aimsun.com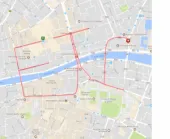 Put the sport in Transport
2017 saw the first ETC running tour and we're back for ETC 2018 in Dublin. In 2017 a modest-sized group of mixed ability joggers and runners met early for a casual run to see some of Barcelona's main attractions - all before the day had properly started. Whilst you can't expect a Mediterranean climate in 2018, you can expect to run past some of Dublin's most popular sites such as: Trinity College, Dublin Castle, St. Patricks Cathedral, GPO building, Guinness Storehouse and numerous city parks and bridges over the River Liffey.
Depending on demand we will cater for different paces and distances:
Thursday 11th October, 06:45am

: There are two route options; plod round a city-center

6 km route

whilst casually chatting with ETC colleagues (~45 mins) or go a bit further on the 10 km route and run past the Guinness Storehouse (~1h 15mins). Meet at the Castle 0645, outside Palace Street Gate at Chez Max.

Friday 12th October, 06:30am

: a run of around 10-14 km up to and around Phoenix Park where we are likely to see deer and hear the dawn chorus of Dublin Zoo (~1h15 - 1h45). Meet at the Castle 0630, outside Palace Street Gate at Chez Max.
Routes are indicative and subject to change.
Bike Tours
Facilitated by Dublin City Council, Dublin Bikes.
Places strictly limited to 25 places per session
Wednesday 10th October 1800 – 1900
Thursday 11th October 1800 – 1900
Dublin Tunnels
Presented by Transport Infrastructure Ireland.
2 x Groups of 15
Thursday 11th October 1115 arranged transport will leave for the tour, returning to Dublin Castle during lunchtime
Packed lunch will be provided (please request a vegetarian meal in advance).
LUAS Redcow Depot
Transport Infrastructure Ireland and Transdev Ireland (the operator of the Luas, Dublin's Light Rail system), are delighted to host a visit to their Red Cow Depot facility. The visit will include short tours of both the Central Control Room and the working Depot floor.
2 x Groups of 15
Thursday 11th October
0825 all delegates to board tram from LUAS Stop to the Red Cow Depot facility
Centralised Traffic Control
(CTC)
This technical visit is presented by Irish Rail and will take place at Connolly Station. A brief presentation of Irish Rail in the boardroom by the Media and PR team followed by a walk-around the control.
Provisional times are:
Friday 12th October 0845 – 1115
Friday 12th October 1345 – 1615
2 x Groups of 15
Special Day Trip - Saturday 13th October
Pick up Ship Street Entrance Printworks Dublin Castle 0845 Saturday

Route would be Dublin - Dundalk - (stop at border to see current arrangements on the main road - Armagh) - Monaghan - Clones - (stop at border to see minor road arrangements)- Cavan - Navan - Dublin Airport - Dublin.

The expectation would be that we'd need to have a stop for drivers hours purposes anyway - which would probably end up being an informal lunch break in Monaghan or Cavan.

Return via the airport around 1600, with a final drop off in the city centre.
There will be a small charge for this visit of between €30 - €35 (excluding lunch costs), we have hired a 29 seater bus and do have a few spaces available.
sabrina.winter@aetransport.org